Markov Chain
De Markov Chain werd ontworpen in 1906 door Andrey Markov, een Russische wiskundige die het leven liet in 1992.
Dit algoritme ligt aan de basis van heel wat softwares die spam genereren.
Het wordt gebruikt voor systemen die een reeks evenementen beschrijven die onderling afhankelijk van elkaar zijn. Wat gebeurt, hangt enkel af van de vorige stap. Daarom worden Markov Chains ook 'geheugenloos' genoemd.
Het spel werd ontwikkeld in twee versies, een versie met zinnen en een kaartsysteem (ism Brendan Howell, Catherine Lenoble en Désert Numérique); en een versie met voorwerpen (ism de deelnemers aan de workshop in december 2015 in Consonni, Bilbao: Itziar Olaizola, Emanuel Cantero, Pablo Mendez, Ariadna Chezran, Iñigo Benito, Itziar Markiegi, Josefina Rocco, Andrea Estankona, Mawa Tres (Juan Pablo Orduñez), Maria Ptqk).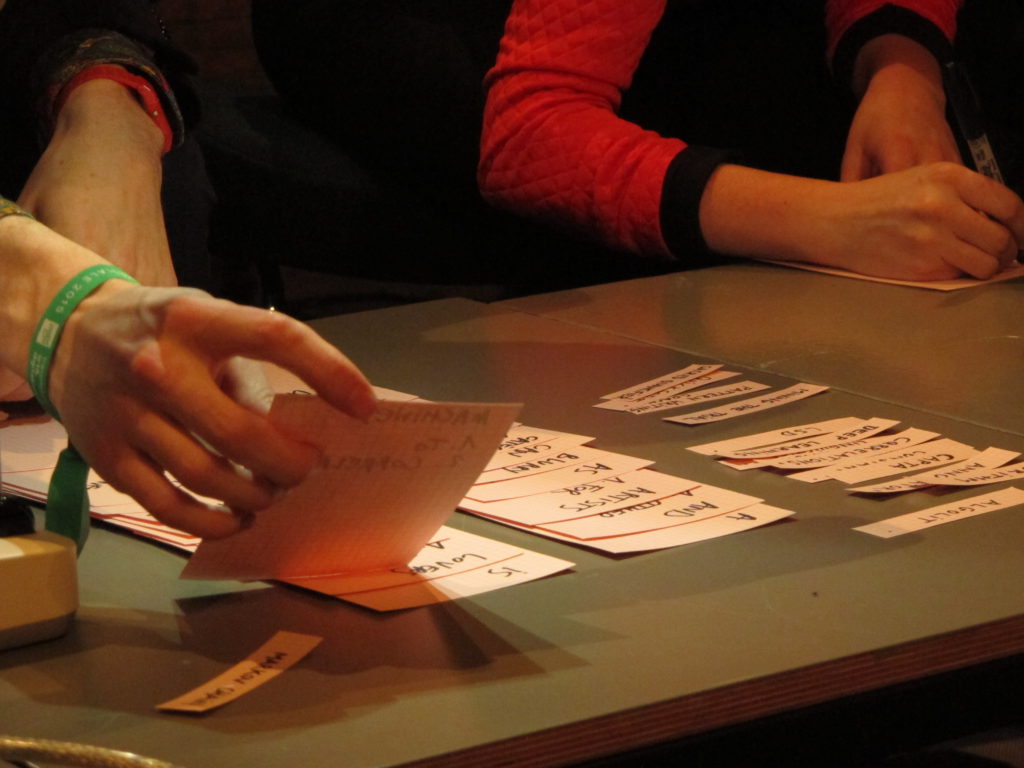 Transmediale, Berlijn, jan 2015
Met voorwerpen:
1. Elke speler kiest drie of meer voorwerpen en beslist welk woord elk voorwerp vertegenwoordigt.
2. Elke speler stelt haar voorwerpen voor en voegt ze toe aan de collectie op de tafel (de database).
3. De spelers kiezen minimum 2 voorwerpen die een 'punt' toegekend krijgen, en één ander een 'komma'.
4. De voorwerpen worden gerangschikt op alfabetische volgorde.
5. De voorwerpen worden per reeksen letters verdeeld over de spelers, bijv speler 1 krijgt alle voorwerpen van A tot C, speler 2 van D tot F enz.
6. Elke speler rangschikt de voorwerpen volgens een systeem dat die zelf kan bepalen.
7. De speler die begint kiest een van haar voorwerpen uit.
8. De speler gooit de teerling.
9. De persoon die het voorwerp initieel heeft aangereikt, mag uit haar stukje database het voorwerp/woord aangeven dat op de plaats staat die de teerling aangeeft. Als de speler minder voorwerpen heeft dat het cijfer aangeeft, mag die opnieuw beginnen tellen of een eigen systeem verzinnen, zolang het maar consistent is.
10. Herhaal stap 8 en 9 tot het woord met het punt is gekozen.
11. Lees de zin!
Met zinnen en fiches (in English!):
1. We take a text, for example:
"Cqrrelations read as poetry to statisticians. Can statisticians read poetry with machines?
Cqrrelations is a practise for artists, for datatravellers, statisticians and other lovers of machines to explore a world of blurry categorisations and crummylations.
Machines correlate to dissidents, dissidents correlate to statisticians."
2. We create a database for this text; each word is an entry and takes the following word as a possible value. The entry for 'Cqrrelations' will have two values:
1. read
2. is
3. Once the database is created, we choose a starting word for a new text, for ex. Cqrrelations.
4. We roll the dice, odd numbers will give 'read' as the 2nd word of our text; even numbers will give 'is' as the 2nd word.
5. We roll the dice again, and choose a word amongst the values of the chosen word. This gives the next word of our sentence.
6. We continue 5 till we arrive at a word with a period (.)
7. We can repeat rule 3 till 6 until we are satisfied with the amount of generated sentences
The output at Transmediale was: "A world of blurry categorisations and other lovers of blurry categorisations and other lovers of blurry categorisations and other lovers of machines. Cqrrelations read poetry to dissidents correlate to machines. Lovers of machines to statisticians."
Première, Désert Numérique, La Drôme, Frankrijk, juli 2014
ism Brendan Howell, Catherine Lenoble, An Mertens: http://desert.numerique.free.fr//archives/?id=1011&ln=fr